Who We Are
Bhagyalaxmi Industries (BLI) is a professionally managed ISO 9001, FDA & CE accredited company, with a global customer base for the supply of intricate plastic components, molds, and PPE products meeting the stringent specifications laid down by the White goods, Automobile, Electronics, Furniture, and other engineering industry.
The hallmark of any company can be judged by its commitments to its customers. BLI has established its commitment to its customers, over the last two decades, by maintaining world class quality, and deliveries that were always on-time with out an exception. All these BLI could achieve because of its fully integrated manufacturing facility that include a top notch engineering team to design the highly complex mould tools, a state-of-the-art tool room to manufacture the intricate moulds and a mould shop consisting of a wide range of fully automatic injection moulding machines both vertical and horizontal.
BLI's quality policy is based on one single factor-Customer Satisfaction. BLI achieves this by maintaining consistent quality and on-time delivery, at a price that the competition can only envy. To ensure that the quality objectives are met on a day-to-day basis, the quality system is designed to assure the quality at all stages-incoming, on-line and out going.
---
History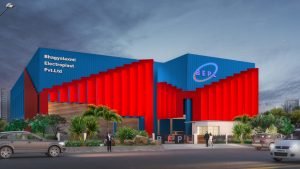 Bhagyalaxmi Industries (BLI) the holding company of a host of brands including RoboTouch, Bhagyalaxmi Electroplast Private Limited, HerbHair, and KroNil. BLI is spearheaded by Mr.Yerram Balakrishna an industry doyen with impeccable credentials. He is the visionary business leader who shaped the destiny of Bhagyalaxmi Industries. He is recognized as the pioneer responsible for introducing the regional market to a range of health & wellness and lifestyle products in a sustained format. People management, financial planning, resource integration, project management, and strategic alliances are some of the areas where Mr. Yerram Balakrishna has core expertise.
The senior statesman of the company Mr. Yerram Balakrishna started his career way back in 1981 and grew from strength to strength drawing on sheer passion to learn and sweat of his brow. He is the architect who scripted the firm's success story. 1987 was a groundbreaking moment as Mr. Balakrishna set up his very first factory. 1994, 1998, and 2002 were also path-breaking from an expansion perspective. It was 2007 which firmly announced the arrival of Mr. Balakrishna as a big-time entrepreneur with the evolution of Bhagyalaxmi Industries and subsequently RoboTouch brand.
2020 – Launched KroNil Brand (COVID19 Essential PPE Products).
2019 – Structural reconstruction of the factory leading to improved performance.
2005 – Expanded then business to make plastic molds.
2002 – Started new private limited company (BEPL) for exports and Nilkamal.
1998 – Added imported sophisticated machines to cater new market.
1988 – Moved to own building and expanded the facility with automated machines and developed import substitute products.
1981 – Bhagyalaxmi Industries (BIL) Started in 1981 With plastic hand molding.
---
Brands



---
Clients We Serve




---